Get the White Coat Guide to Remote Patient Monitoring
Fill out the form to get your FREE guide - 16 critical questions every healthcare provider should ask before selecting a Remote Patient Monitoring vendor.
The Industry Leading RPM Platform
Remote Patient Monitoring. Healthcare that Empowers.
Accuhealth offers an award-winning turnkey RPM solution with a quadruple aim: reduce healthcare costs, better outcomes, and improve the patient and provider experience. Our solution seamlessly integrates with your EHR and can be setup in as little as 24-hours.
Real-time Improved Outcomes & Cost Savings
See real-time unnecessary hospital visits avoided and direct savings to Medicare from patients using Accuhealth RPM...
How We Do Remote Patient Monitoring
We make RPM EASY for physicians, their staff, and patients. Start enjoying the benefits of Accuhealth RPM today.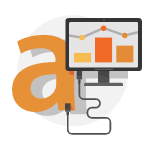 True No-Cost EHR Integration
Accuhealth built a proprietary integration engine that integrates with more than 50 of the top practice-based EHRs. Our seamless integration is provided at no-cost to all customers.
24/7/365 Clinical Monitoring
Accuhealth's Health Operations Center (HOC) will monitor your patients and escalate cases based on defined thresholds, reducing hospital visits, burden on clinical staff and cognitive overload.
No Contracts or Commitments
Our Remote Patient Monitoring program is risk-free. Cancel anytime with no contracts or long-term commitments. You will only be reimbursed for patients who participate.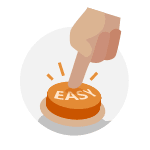 Easy-to-Use 4G Devices
First device for each patient is included. All of our devices are cellular-enabled and work on all major carriers globally. Accuhealth manages all device onboarding, shipping and repairs.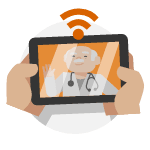 Unlimited Telemedicine
Accuhealth offers unlimited no-cost telemedicine for all customers enabling an on-demand virtual clinic for providers to see their patients with the click of a button.
Automated Time Tracking
All clinical interactions with the patient on the Accuhealth platform are automatically recorded and time-stamped, creating a secure audit trail. This audit record is also integrated with the patient's medical record in the EHR.
Audit Support and Compliance
All monitoring, comments, and phone calls made to patients through the platform are timestamped and recorded as part of the audit record. Accuhealth is the most compliant RPM solution on the market today.
Patient Success
Accuhealth has a robust patient management program that includes paying for all consumables, building relationships by using the same clinical team members where possible for patient calls, and enrolling patients in the daily Bingo Game.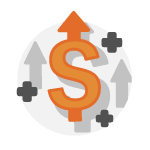 Billing Support
24/7 complimentary billing support is available to all customers to ensure your clinic's success. Let our Billing Specialist take the burden off of your staff and submit claims, enroll your clinic in auto-billing, or handle any billing issues.
In the Press
Accuhealth featured on Worldwide Business with Kathy Ireland
Accuhealth CEO Stephen Samson featured on Worldwide Business with Kathy Ireland® as an innovator in healthcare technology.
Simple Transparent Pricing
We bill you every month for the previous month's work. We only charge you for patients who meet billing thresholds
No long-term contracts
No minimum commitments
No capital outlay if you only order one device per patient
Net 30, so that you have enough time to get paid first
| Feature | Cost |
| --- | --- |
| EHR Integration | Included |
| First device per patient | Included |
| Patient onboarding fee | $15 / patient |
| Consumables | Included |
| CPT Code 99454 | $25, every 30 days |
| CPT Code 99457, 99458 | $20 each, every month* |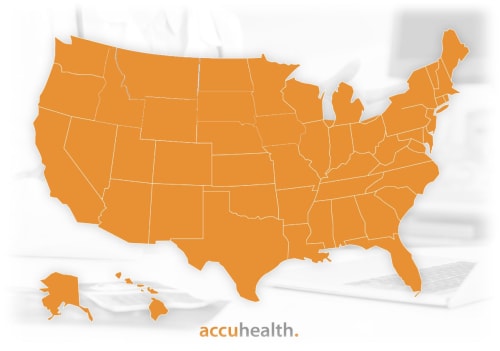 Nationwide Coverage
Delivering RPM Success in 50 States
Accuhealth provides world-class remote patient monitoring services in all 50 States, including Alaska and Hawaii.
Who We Help
With the release of Evelyn 3.0 Accuhealth is proud to now offer our customers tiered service options to fit every use case. You can simply pick and choose from the services we offer and pay only for what you need.
Patients
Provide higher quality care by allowing you to access your patient's vital signs despite COVID-19. Generate new revenue while getting your patients more involved in their own care.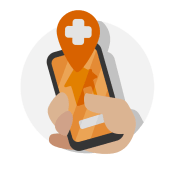 Providers
Deploy hospital-at-home and safe-discharge programs by enrolling patients in post-discharge RPM programs designed to reduce readmissions and expand hospital capacity.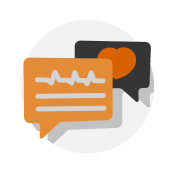 Healthcare Systems
Strategically install RPM capabilities with high-risk and rising-risk members to establish improved communication and health accountability with your costliest members.
Testimonials
Hear from people using Accuhealth Remote Patient Monitoring...
Why Remote Patient Monitoring
There are many Remote Patient Monitoring offerings on the market today. So, why should you choose Accuhealth? Put simply, we have the most advanced Remote Patient Monitoring program on the market today and other companies over-promise and under-deliver results. In comparison, Accuhealth is an award-winning platform year-after-year with the in-house experts and a proven track record.
Better Patients
Improved health - both in the short and long term. Patients feel empowered by taking ownership of their health via the Accuhealth user experience, which dramatically improves self-management and care plan adherence, patient satisfaction, and engagement.
---
Higher Quality Scores
With our EHR integrations, your patients' improved readings will flow seamlessly into your EHR, helping you achieve higher scores on your quality metrics, like blood pressure. The majority of patients on our RPM program show significantly improved physiologic readings within 30 days.
---
Better Providers
Accuhealth's high-touch full service care model enables providers to get ahead of negative health outcomes and keep patients out of the hospital. Track measurable health improvements with data-driven care that creates a more efficient practice and a better clinical experience.
Deliver Measurable Outcomes
Accuhealth data proves that Remote Patient Monitoring keeps patients out of the hospital and reduces Medicare costs. Both short-term and sustained long-term improvements with high-touch 24/7/365 care.
86
Net Promoter Score
The average NPS is 32. Accuhealth is a leader in patient satisfaction.
80%
Readmission Reduction
Patients marked as high risk get extra attention from clinical staff and minimize risk of hospital visits.
$77M
Cost of Care Reduction
Due to high touch points we are able to help patients instead of going to the emergency room.
Average biometric data improvements over time...
-10 mmhg
Systolic Blood Pressure
-8 mmhg
Diastolic Blood Pressure
-3 BPM
Resting Heart Rate
20%
Medication Adherence Increase
Proprietary Software Platform
Accuhealth offers a proprietary software platform at no-cost to registered accounts. Our software platforms acts as a central easy-to-use hub for you and your team to manage your clinic and monitor your patients in a single pane of glass.
Active Patients
Using RPM devices
52
Critical Patients
Escalated to provider
3
At-Risk Patients
Monitored according to clinical algorithms
12
Normal Patients
Requiring no action
37
Tracking Abnormalities
Per-Patient Biometric Thresholds
When a new patient is referred to Accuhealth's Remote Patient Monitoring program the referring physician can set up per-patient biometric thresholds that define the normal range of readings for blood glucose and oxygen saturation levels, heart rate, weight, and more.
---
Patient Status Overview
Real Time Patient Readings
Our software platform houses accurate and reliable patient readings sent from cellular-enabled devices in real-time. You will have an overview of current patient statuses and be able to set per-patient biometric thresholds, which will notify the clinical team once the thresholds are exceeded. This data is also available in reports that may be downloaded at your convenience.
Proprietary Artificial Intelligence
Evelyn 3.0 is our proprietary AI-technology that assists our Health Operations Center (HOC) to provide you with the most advanced Remote Patient Monitoring solution on the market. With over 100,000+ touchpoints daily Evelyn utilizes predictive analytics to analyze patient behavior and alert you before a crisis occurs.
Tracking Adherence and Other Trends
Predictive Analytics for Trend Analysis and Behavioral Insights
Evelyn employs predictive analytics to better understand health trends like daily patient readings and compliance. This technology allows Accuhealth to spot changes in patient behavior and highlight trends to a Physician who can help the patient if they are falling off their care plan. In-depth analytics enable providers to see all vital patient information in a single pane of glass. Data-driven healthcare gives providers the tools to analyze trends and get ahead of negative health outcomes to keep patients healthy, happy and out of the hospital.
---
Identify At-Risk Patients
Sentiment Analysis for Stays Ahead of Negative Health Outcomes
Accuhealth RPM utilizes behavioural analytics capabilities. With these services Evelyn harnesses Sentiment Analysis from our built-in call center to analyze patient - clinician interactions. Based on these communications metrics, like speech and tone patterns, Evelyn can identify patients who may require to be highlighted to their physicians to assist them with their mental well-being. The Accuhealth model lets providers get ahead of negative health outcomes that would normally be undetected.
---
Increased Engagement
Personalized Outreach and Reminders for Improved Clinical Outcomes
Fully customizable outreach via SMS, telephone, email, or video telemedicine call. Increased patient engagement by using Accuhealth's clinical care team to provide full-service care coordination, medication and appointment reminders, health coaching, and the patient's preferred method of communication to build healthy habits.
Explore Remote Patient Monitoring In-Depth
Join Dr. Alex Mohseni for an in-depth look at What Is Remote Patient Monitoring and answers to the most commonly asked questions by physicians.
Awards & Recognition
Accuhealth is proud to be the recipient of numerous awards and recognition for our products and services. See some of our most recent awards below.
Remote Patient Monitoring Devices
At Accuhealth we believe patients deserve the best. That's why we only use TelliHealth rigorously tested and clinically validated devices. All devices are cellular-enabled, with best-in-class global connectivity and data transmission, and provide the lowest barrier of entry for patients. Easy-to-user devices translate into higher patient adherence rates and improved program success for your clinic.
Cellular-Enabled
Plug-and-play without reliance on Bluetooth or WiFi via embedded 4G cellular-enabled chips. Patients focus on taking readings instead of technical hurdles.
Easy to Use
Recorded patient data is seamlessly transmitted back to our software platform and your EHR globally anywhere there is a cellphone signal via a 4G cellular-enabled chip.
Accurate & Reliable
All devices consumables (lancets, test strips, and batteries) are provided at no cost as part of our Remote Patient Monitoring program for all registered accounts.
Blood Pressure Monitor

Blood Glucose Meter
Pulse Oximeter
Weight Scale
Touchless Thermometer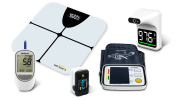 ... and more!
Reliable and Accurate 4G Cellular Devices
Verified Reading Accuracy
All devices provided to patients as part of Accuhealth's Remote Patient Monitoring program have FDA-approved and verified accuracy. No false positives or abnormal readings from your patients with clinically validated and rigorously tested devices.
Industry Leading No-Cost EHR Integration
All patient readings and other biometric recordings are sent securely and autonomously from our telemonitoring devices, via their 4G cellular-enabled chips, received from the cloud, stored within our proprietary software platform, and seamlessly integrated back into your existing Electronic Health Record (EHR).
Real Data. Real Fields.
Truly Seamless EHR Integration
EHR integration is critical for Remote Patient Monitoring success so that the RPM program can integrate into your current workflow and so that you can easily generate quality reports using the RPM data. Many RPM vendors claim "integration," but in reality all they do is scan PDFs; our integration places readings into true data fields in your EHR. With some EHRs, we can even auto-generate RPM claims.