Concierge Value-Based CCM is Just a Click Away...
Accuhealth's Chronic Care Management Program ensures that your patients receive intimate concierge-level care to build better habits and improve their overall health and wellness - all from the comfort of their home.
Real-time Improved Outcomes & Cost Savings
See real-time unnecessary hospital visits avoided and direct savings to Medicare from patients using Accuhealth RPM...
What can you expect from Accuhealth CCM?
Healthcare providers all over the nation are improving patient outcomes and reducing patient care load using Accuhealth's concierge-level Chronic Care Management program. Our 24/7/365 clinical monitoring team is always available to speak to your patients and provide an intimate healthcare companion to build better habits and improve overall health and wellness.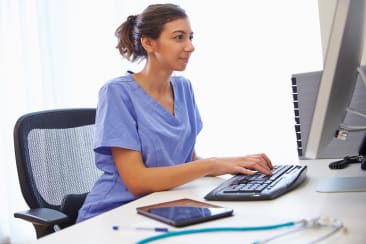 Accuhealth can add CCM to all of your existing patients starting now.
Benefits include:
Improved Patient Outcomes
Reduced Cognitive Overload for Providers
Increased Medication Adherence & Appointment Reminders
Improved Financial Viability
Get our CCM vs RPM Whitepaper
Fill out the provided form to get your free White Paper - a comprehensive guide detailing the differences between Chronic Care Management (CCM) and Remote Patient Monitoring (RPM).
Deliver Measurable Outcomes
Accuhealth data proves that Remote Patient Monitoring keeps patients out of the hospital and reduces Medicare costs. Both short-term and sustained long-term improvements with high-touch 24/7/365 care.
86
Net Promoter Score
The average NPS is 32. Accuhealth is a leader in patient satisfaction.
80%
Readmission Reduction
Patients marked as high risk get extra attention from clinical staff and minimize risk of hospital visits.
$143M
Cost of Care Reduction
Due to high touch points we are able to help patients instead of going to the emergency room.
Average biometric data improvements over time...
-10 mmhg
Systolic Blood Pressure
-8 mmhg
Diastolic Blood Pressure
-3 BPM
Resting Heart Rate
20%
Medication Adherence Increase
Industry Leading No-Cost EHR Integration
All patient readings and other biometric recordings are sent securely and autonomously from our telemonitoring devices, via their 4G cellular-enabled chips, received from the cloud, stored within our proprietary software platform, and seamlessly integrated back into your existing Electronic Health Record (EHR).
Real Data. Real Fields.
Truly Seamless EHR Integration
EHR integration is critical for Remote Patient Monitoring success so that the RPM program can integrate into your current workflow and so that you can easily generate quality reports using the RPM data. Many RPM vendors claim "integration," but in reality all they do is scan PDFs; our integration places readings into true data fields in your EHR. With some EHRs, we can even auto-generate RPM claims.


Safe and Secure
HIPPA-Compliant Integrity & SOC-2 Certified Transmission
Accuhealth was founded by a group of cybersecurity professionals who wanted to revolutionize healthcare for patients and providers alike. The founder and CEO, Stephen Samson, has 20+ years of cybersecurity experience. At Accuhealth we believe patient safety and data security is a first priority - and not an item on a checklist.
Our Hardware
We provide EHR-connected blood pressure monitors, glucometers, pulse oximeters and weight scales with these features:
Built-in integration with cloud-based EHRs
First device for each patient provided as part of our service
Device consumables (lancets, test strips, batteries) included
HIPAA-compliant secure data transmission
No WiFi, Bluetooth, tablet, or smartphone required for the patient

Verizon certified, with roaming capabilities on AT&T and T-Mobile. What this means - our devices work anywhere there is cellphone service globally.
Our Software
Receives and organizes all biometric data
Integrates with cloud-based EHRs
Securely records and transcribes calls with patients
Automatically time stamps all patient interactions
Generates clinical and billing reports
Our Clinical Team
English and Spanish speaking
24/7/365 coverage in all states in the US
Follow clinic-specific escalation algorithms
Operate as an extension of your practice
Lets you scale RPM without needing to hire additional staff
Breaking Down CCM and RPM
Your CCM program can be enhanced dramatically with Accuhealth Remote Patient Monitoring. If you're not already aware, you're able to bill for CCM and RPM concurrently because CCM patients qualify for RPM. The differences and similarities in CCM vs RPM are highlighted below: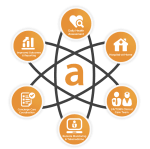 CCM Services
Generally non face-to-face services provided to Medicare beneficiaries who have multiple (two or more) chronic conditions expected to last at least 12 months.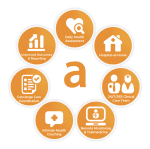 RPM Services
Generally the collection and analysis of physiologic data used to develop and manage a treatment plan related to chronic and/or acute health illnesses or conditions.
Similarities and Differences
Your CCM program can be enhanced dramatically with Accuhealth Remote Patient Monitoring. If you're not already aware, you're able to bill for CCM and RPM concurrently because CCM patients qualify for RPM. The differences and similarities in CCM vs RPM are highlighted below:
Program Aspect
CCM Details
RPM Details

Purpose

Primary purpose is to manage the care of those patients with two or more chronic conditions, as designated by CMS.
Has multiple purposes, that include chronic care management, principal care management (just 1 chronic condition), acute care, neonatal care, etc.

Requirement (With Clinical Staff)

1) Initial set-up and patient education on use of equipment.

2) Device(s) supply with daily recording(s) or programmed alert(s) transmission, 16 or more days each month.

3) Remote physiologic monitoring treatment management services, 20 minutes or more of clinical staff/physician/other qualified healthcare professional time in a calendar month requiring interactive communication with the patient/caregiver during the month. Up to 2 additional units of 20 minutes are currently acceptable.

Chronic care management services, at least 20 minutes of clinical staff time directed by a physician or other qualified health care professional, per calendar month.

Care Activities

Interpretation of the received data and interaction with patient on their treatment plan.

Real-time clinical intervention for abnormal patient readings.

Ongoing health coaching.

Patient empowerment with physiological data.

Device onboarding and patient education.

Patient adherence reminders.

Rewarding patient behavior and healthy wellness habits.

24/7/365 clinical access for patients, extending continuity of care.

Medication adherence.

Comprehensive care plan must be established. It must then be implemented, revised, or monitored on a monthly basis.

It can involve the following:

· Systematic assessment of the patient's medical, functional, and psycho-social needs.

· System-based approaches to ensure timely receipt of all recommended preventive care services.

· Medication reconciliation with review of adherence and potential interactions.

· Oversight of patient self-management of medications.

· Coordinating care with home- and community-based clinical service providers.

Expected Monthly Reimbursement

99453 - One time patient setup onto RPM $19

99454 - Device supply and recordings; every 30 day code $62

99457 - 20-39 min., First 20 min of RPM clinical time (reviewing readings, phone calls...); calendar month code $52

99458 - Each additional 20 min of RPM clinical time, max 2 units; calendar month code $42

99490 - CCM Initial 20 min of clinical time $41

99491 - CCM Additional 30 min $82

99487 - Complex CCM initial 60 min of clinical time $92

99489 - Complex CCM additional 30 min $44

CCM and Complex CCM is an evolving and growing service. Visit this link to learn more about it:

Complexity of Cases

Does not have separate codes for medium to high complexity cases.

Has separate codes for medium to high complexity cases.

Possibility of Increments

In increments of 20 minutes.

In increments of 20 minutes, however if 60 minutes will be required a month, it is encouraged to bill a complex care code that starts at 60 minutes monthly.

Requirements

Collection and interpretation of physiologic data digitally stored and/or transmitted by the patient and/or caregiver to the physician or other qualified healthcare professional, qualified by education, training, licensure/regulation (when applicable) requiring a minimum of 30 minutes of time, each 30 days

Chronic care management services, provided personally by a physician or other qualified health care professional, at least 30 minutes of physician or other qualified health care professional time, per calendar month.

24/7 Access to Care

Yes

N/A
| Program Aspect | Details |
| --- | --- |
| Initiation | For new patients or patients not seen within 1 year prior to the commencement of RPM/CCM, Medicare requires initiation of services during a face-to-face visit with the billing practitioner. Has to be initiated by an Annual Wellness Visit, Initial Preventive Physical Exam, etc. |
| Staff Involved | Physicians, Qualified Health Professionals, Clinical Staff |
| Billing Cycle | Monthly |
| Supervision | General Supervision |
| Patient Consent | Required |
| Location of Patient | Anywhere outside of the hospital. Does not have to be in an originating site, as it's typically the case with telehealth services. |
| Cost Sharing | Copays and deductibles may apply. |
Accuhealth Telemed
Patients are only ever a click away from their provider and the provider from their patients. If a patient feels they need care they can schedule a telemedicine appointment through our online portal and the provider can manage their scheduled meetings and exam room anytime anywhere in our software platform's central easy-to-use hub.
Easy Management
On-Demand Virtual Clinic
See and hear your patients through crystal clear high definition video as if they were in the room with you with our telemedicine platforms high-definition two-way video capabilities.
---
Unlimited Scalability
HD Two-Way Video
You also have the ability to create and send personalized unique video links to your patients preferred method of communication so they can join their telemedicine appointment with just one-click eliminating technical obstacles.
---
Detailed Interaction Histories
Record and Transcribe Interactions
All telemedicine visits are automatically recorded, transcribed, and securely stored in the patient encounter for future reference.