Introduction
By now, it is pretty easy to understand why Remote Patient/Physiological Monitoring (RPM) is here to stay. It's very difficult to debunk this service as it benefits the patient, the public, and the provider. But as with all successful programs, the laws and regulations evolve with time to ensure compliance and efficacy of the program.
Rule by CMS
Per CMS clarification of qualifying CPT codes 99453 and 99454:
"We are clarifying that CPT codes 99453 and 99454 should be reported only once during a 30-day period; that even when multiple medical devices are provided to a patient, the services associated with all the medical devices can be billed by only one practitioner, only once per patient, per 30-day period, and only when at least 16 days of data have been collected; and that the services must be reasonable and necessary."
So by this rule, each patient must have 16 unique days of readings in said month to qualify for CPT 99453 and CPT 99454
COVID Rule via cms.gov
"In recent years, CMS has finalized payment for seven remote physiologic monitoring (RPM) codes. In response to stakeholder questions about RPM, CMS clarified in the CY 2021 PFS final rule our payment policies related to the RPM services described by CPT codes 99453, 99454, 99091, 99457, and 99458. In addition, we finalized as permanent policy two modifications to RPM services that we finalized in response to the COVID-19 PHE."
We clarified that after the COVID-19 PHE ends, 16 days of data each 30 days must be collected and transmitted to meet the requirements to bill CPT codes 99453 and 99454.
During COVID-19 PHE, the minimum amount of readings per month is reduced to 2 unique reading days per month as long as the patient has tested positive, is at risk due to multiple comorbidities or suffers from symptoms of COVID-19.
As one could imagine, the PHE rules apply to nearly 100% of Medicare beneficiaries eligible for RPM services, and the need to monitor as quickly as possible from the onset of services (i.e. 2 days) has naturally been a hard requirement for all referring providers for RPM services.
In an effort to further robust the monitoring of COVID symptoms, Accuhealth with its hardware partner Telli Health, has deployed the world's first 4G cellular-enabled Thermometer.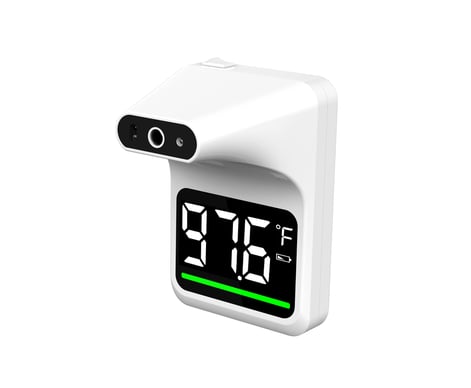 Thermometer Intervention
As the rules evolve, so does Accuhealth. In discovery and understanding of these rule changes, Accuhealth agrees with these CMS changes regarding these COVID19 regulations. Clinically speaking, frequent monitoring of vital signs, including temperature is an important tool in managing ill, comorbid patients, during this COVID19 pandemic. To combat this, Accuhealth will implement the new 4G cellular-enabled Thermometer that will be included with all provider identified, COVID positive and COVID at-risk patients, active and new.
This new thermometer is easy to use, FDA II certified and is available for immediate delivery.
The thermometer is cell enabled to allow easy, real-time monitoring and communication of results.
The thermometer is non-invasive. Meaning patients don't have to prick or probe to collect data. Simply stand 2-3 inches from the thermometer's sensor and a reading will be taken and transmitted instantly.
Accuhealth's new thermometer is the ultimate differentiator. It will stimulate greater adherence and act as the earliest physiological marker to identify elevated temperatures as a possible sign of viral (cold, flu), bacterial (bronchitis, pneumonia, UTI), and COVID infections.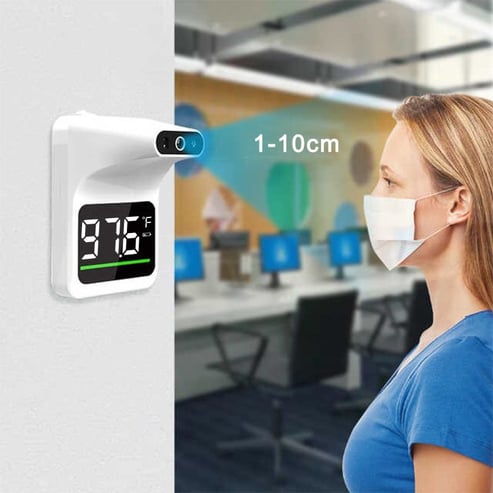 Conclusion
For over the past 3 years and counting, Accuhealth has helped clinics across the US develop and manage their RPM program with the following goals: improve patient quality of life, improve patient outcomes, reduce unneeded emergency room visits, all while assisting clinics to expand their service portfolio in a viable manner.
Find out more about Remote Patient Monitoring, and how RPM providers like Accuhealth are facilitating the easy, scalable implementation of RPM programs for patients and providers across the United States, at accuhealth.tech.